WHAT MAKES AN EQUINE BODYWORKER QUALIFIED?
By Mary Lou Langley LMT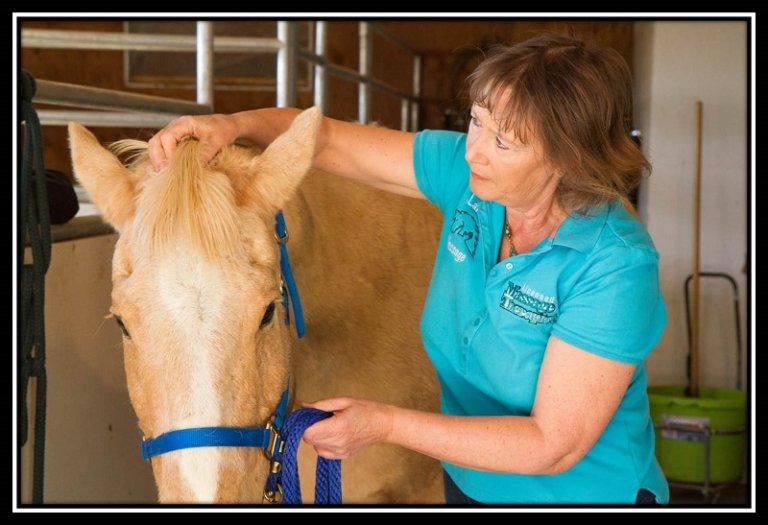 Horse owners use bodywork for their horses for a variety of health-related reasons, including reduction of pain, to rehabilitate injuries, reduce stress, promote relaxation, increase circulation, aid in general wellness and improve performance. Therapeutic massage can help restore range of motion to the joints and release tight or sore muscles.
Equine massage is a wellness approach that has grown in demand and popularity and is now considered a mainstream treatment option. People see the benefits and long-lasting results of massage and no longer look at it as a last-ditch effort to save their horse, but rather much needed maintenance.
The variances in the field of bodyworkers are too numerous to address in this article, therefore the focus will be mainly on massage therapy. Selecting an equine massage therapist can be difficult because not all therapists are created equal—in education, expertise or experience. It's like comparing apples to oranges. How does the horse owner know who to call? Whom can you trust? First, trust your veterinarian and ask him for a referral to a qualified massage therapist.
Let's take a look at credentialing and what's legal or illegal depending upon the state you live in. The legal standards are our plumb line to judge a potential therapist's qualifications. This information is readily available at your state's department of health massage or veterinarian boards. Many states do not regulate animal massage; in some states it falls under the direct supervision of a veterinarian.
Washington is different in that equine massage therapists must be licensed by the Board of Massage. Credentialing in Washington is regulated by a set number of hours and by attending a state approved school. Washington requires therapists to carry their license with them when performing services and print their license number on all business documents. Don't be afraid to ask someone for their license, a legal therapist is proud to show it to you.
Equine Chiropractic
In Washington a licensed veterinarian is the only person who is lawfully allowed to practice chiropractic on animals for a fee. It is lawful for a licensed (human) chiropractor to treat an animal, but they are not permitted to charge a fee. There are three to five-day clinics offered that cause attendees to erroneously think when they leave with a piece of paper in hand that they are suddenly a "certified animal adjuster". I know, I attended one such class.
Can the consumer trust the word "certified"? Unfortunately, no, because all it means is someone attended a class and got a piece of paper at the conclusion of the training. It doesn't guarantee expertise or mastery, nor do certifications equal being legal in the eyes of state laws (whether that is WA, OR, ID or MT).
Some certification courses are a mere few days. Equine massage schools vary greatly in hours and curriculum. Equine massage programs typically range from three to five days to two weeks. Some classes even require 100 to 200 hours. The consumer needs to understand that licensing and certification have two very different meanings.
In speaking with the Director of Veterinarian Medicine in the State of Idaho, he suggested the horse owner take the initiative to check out the potential therapist. Do your due diligence to understand the difference in training, seek references, and follow state laws, rules and regulations. These regulations are there to protect the consumer and the animal.
In Idaho and Oregon an allied health professional participating in procedure withFeature: Choosing an Equine Massage Therapistin his/her scope of practice, like a licensed massage therapist (whose license is current and in good standing), can practice on animals under the direct supervision or referral from an actively licensed veterinarian.
What to ask when considering a therapist: Are you licensed? Certified by whom? How many days/hours was the training? What was the curriculum? Can you give me references? What veterinarian do you work with?
A good massage therapist will keep records on each client. They should have a business license. They should have a solid knowledge of anatomy and physiology, including conformation/posture, skeletal system and muscles. They should be able to assess the horse with full body palpation. The ultimate goal or intent should be the well-being and care of the animal.
2-Day Clinics Available
If you're interested in learning techniques to massage your own horse, consider attending one of my 2-day self-enrichment clinics. Langley Equine Studies offers clinics on-campus annually. If you are interested in attending or hosting one in your area contact me for availability.
Originally published in October 2019 Edition of the NorthWest Horse Source